Interview with Director of Night Contact Emily Graham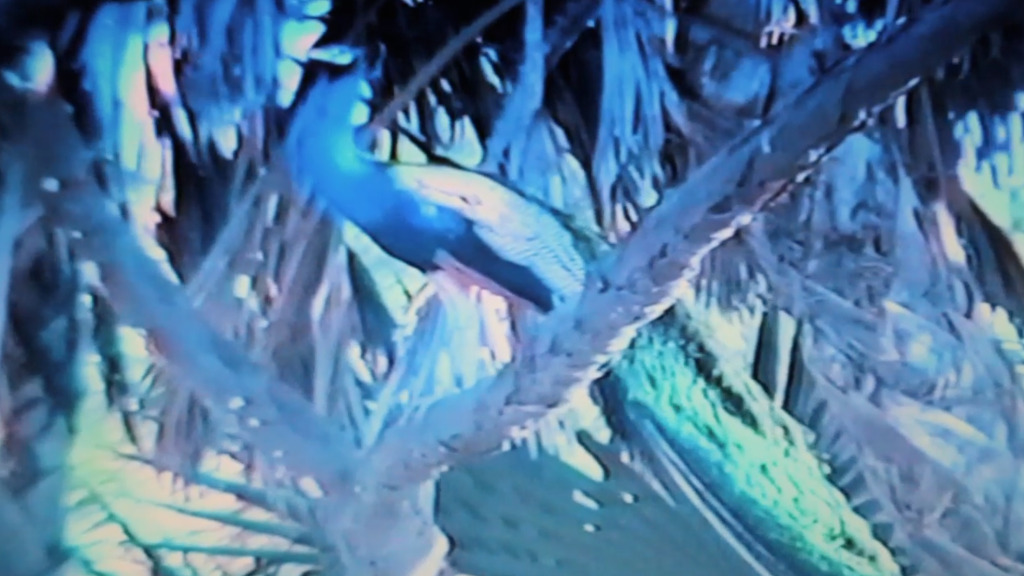 Still from EXTRAMISSION: On the research of Professor J. Hillard, by the ARKA group
With the second edition of Night Contact happening this Saturday could you talk us through the curatorial process?
Our starting point was Brighton Photo Biennial's theme of collaboration. We were interested in what this meant in the context of screen based works or 'slideshows', and with the motivation for launching Night Contact last year in mind – our interest in the cross-over of different mediums in the digital landscape of image making.
When we started thinking about this different questions began to emerge which we wanted to explore in the programme – what is collaboration in image making and where does it start/stop? We were interested in deconstructing collaboration in image making and looking at the blurred lines that it creates – where questions of authorship arise and questions on who the collaborating parties are? In what is traditionally thought of a solitary practice – the photographer as auteur – when does the subject become a collaborating party? How does collaboration change individual experience – either as creator, participant or viewer? And what is collaboration in its loosest form, especially in the digital environment where images evolve online through gifs, memes etc? How does collab affect the languages and practices of individuals – does it encourage different ways of thinking/seeing?
We hope that we've invited artists to participate whose practice deals with aspects of these questions.
Could you walk us through some of your favourite work?
We're lucky to be showing some really great artists each with very distinct languages and practices, which hopefully will make for a wonderful screening experience across the different spaces. In Jubilee Square we are showing work from artists working across still and moving images, including Ben Rivers, Jason Fulford, Melanie Manchot, Onorato and Krebs, to name a few. I'm excited to show Aleix Plademunt's slideshow of his book work Almost There (MACK) on a large screen – it's a really beautiful presentation that works in quite a different way to the intimate viewing environment of the book.
Extramission by the ARKA group (showing at the Basement) is a really interesting film; a collaboration between artists Ben Jeans Houghton and Matthew de Kersaint Giraudeau, who produce films, sculptures, soundworks that explore strands of scientific and philosophical thought. This film plays with narrative and ideas of collaboration in an interesting way – constructed from found VHS field recordings made by a professor of entomology and ornithology – questioning the failures and frustrations of visual representation.
How did the selection of the final open submission images work and what can people expect?
We invited four judges (Anne Bourgeois-Vignon, Rebecca Norris Webb, Thurston Moore, Esther Teichmann) from four different backgrounds to each contribute a line of text that resonated with them personally. We were interested to see how image makers would interpret the texts, and in turn how the judges would interpret the entries and edit into a finished 'piece', set to music. How a selection of images from different practitioners, from very individual contexts, can come together to form a collective whole.
Each slideshow is very different to each other, and the judges have put a lot of thought into curating the selections into a visual translation that makes sense to their relationship with the words.
Are there any stand out images for you from the open submissions?
I wouldn't like to pick out single images as there are so many wonderful photographs included from artists of all levels, from a really wide range of locations. We've been featuring a selection of these on our Instagram channel over the last few weeks.
We are really pleased with the resulting slideshows; each is so different from the other, each has it's own rhythm and mood. Rebecca Norris Webb has also kindly provided us with a few choice images from the piece that resonate with other quotes that she has compiled whilst thinking about the original line, "You can see beauty only from the side, hastily." (Tomas Tranströmer). It's a lovely extension of the piece that further plays with the dynamics of image and text.
What excites you most about commission project? What can people expect?
Something thoughtful, playful and challenging. The artists liken it to a tragic comedy.
It's a whimsical journey through the British landscape, with Tom Pope and Terry Smith taking to a tandem bicycle and pushing their relationship as both artists and friends to the limits. Not speaking to each other for the entire seven day journey, the pair question what collaboration is without verbal language, and the journey becomes an experiment in interpretation, language and translation of experience. The piece has a compelling rhythm to it as textures and sounds reveal themselves, or don't, and movements respond to earlier actions. The artists ask, what is needed to communicate? And, quoting John Cage on Silence, what is communication? Watching this, its a dance, a meditation, gestures (understood and misunderstood), restricted views, a cacophony of colliding parts. The two play with the everyday and the absurd, the absurd in the everyday. Or perhaps it's not absurd at all, it only appears so when we isolate it and stop to look.
It's also being shown in an unusual space (designed by Install Archive), which nods to the journey, to the getting there, and to the original functionality of the Circus Street Market space.
Any tips for what to see at the Brighton Photo Biennial?
All of it! There is some really great work on show in Circus Street Market – beautiful lightboxes by Kalpesh Lathigra and Thabiso Sekgala. I love the DIY ethos Photocopy Club, and their show in the space, it's generous, bold and exciting.
I've yet to see it yet but looking forward to spending some time with Amore e Piombo, curated by Roger Hargreaves and Federica Chiocchetti. Other highlights for me are Simon Faithfull's Reef at Fabrica (open til 8pm on the eve of Night Contact), Erica Scourti's digital wall, and ABC collective's ABCEUM which reimagines the museum as a book installation.
The Fringe also has a really packed and exciting programme this year – I'm looking forward to seeing Emma Critchley's (whose work Aria we showed last year at NC13) install at Regency Town House, and Peter Watkins. Miniclick are also running a really ambitious programme of innovative and interesting shows, events, workshops and talks.