Interview with Jason Evans, NC14 commission judge
We are very pleased that Jason Evans will be joining our expert judging panel for the Night Contact 2014 co-commission with Photoworks. Jason works across a range of cultural outlets from the music industry to education via the printed page, digital potential and sculpture.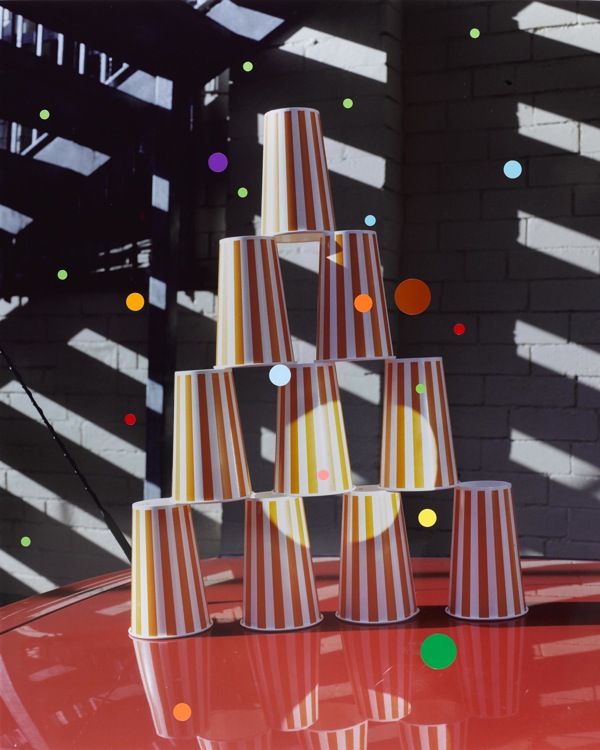 Jason Evans, Untitled from Pictures for looking at : Monkey Face 2013
Jason took the time to tell us about what he will be looking for when selecting for the NC14 commission, as well as discussing his working practices and the importance of collaboration in the creative industries.
NC: Night Contact and BPB are offering £2.5k for the production of a collaborative projection based work for Night Contact, encouraging experimentation and artistic development through collaboration. You have kindly agreed to be one of our judges, what will you be looking for in the entries?
JE: I just try to keep an open mind, however it's always nice to be surprised, right? I look for independent spirits, honesty, originality, integrity… to be 'touched' by someone else's vision…
NC: For some 20 years you have worked across various photographic genres, mediums and platforms, how has collaboration factored into this work?
JE: I couldn't do what I do without collaborating, especially in editorial work which is always a team effort, and there's nothing better than working with a team over a period of time where the narrative of your collaboration can develop. Sometimes it's just a kick up the arse or a reminder not to get too self-indulgent. I get different input from different people at different times, I don't think I could have just one collaborator. Sharing is nice. We all have strengths and weaknesses and collaboration is one way to explore that. You just have to be confident enough to let people in.
NC: You only work with musicians whose music you like, could you share some of your favourite collaborations?
JE: The longest relationships are the most rewarding. Kieran Hebden (Four Tet)  and I have quite different perspectives on living and I like to think we've learned a lot from each other over the years. He used to be quite passive when we started working together but as he's become more informed the dialogue has been one that's pushed me to places I might not usually go. He's got this grounded, common sense, which compliments my more 'random' cognitive processes. AND he's introduced me to some totally amazing music, not just his own. It's all ongoing, fluid, organic… which is so rare as so many musicians are still working around the old models of 'the music business', which still linger despite the way everything has changed post-digital.
NC: You run the popular website www.thedailynice.com where every day you post a photograph of something that made you happy that day. As a personal visual diary of sorts and an independent endeavour,  how would you compare the two approaches (independent vs collaboration)?
JE: The daily nice also has a dialogue: I get feedback from viewers and critics which in turn impacts on the development of the kinds of images on the site, there's been subtle shifts, ups and downs over the last 10 years. I actually find it harder though, with projects where the making is all down to me. The daily nice is compulsive and that can be boring to anyone else, I have to temper myself too.
NC: You physically exhibited this work in 2009, how did you take the work from screen to the wall, what did you learn from that process?
JE: That was also a collaboration, a dialogue, with Ben Burbridge who curated the show. He spoke his mind, he called me on sloppy thinking and it ended up being pretty tight as show, one of my favorites.  I enjoy re-applying images in different context. For example I like that 'NYLPT' looks like this as a book and like that as an APP. They don't even have the same picture content despite sharing a title… it's about trying to relate with the nuances of a particular platform in relation to a particular body of work. Now I have to figure out how to put NYLPT on the wall… I'm flummoxed but in the capable hands of curator Brian Shollis. The Daily Nice just doesn't belong on a wall, I struggle with the idea of seeing a few of those images together… yet I've been thinking about a book and it's different when you see hundreds together, or thousands…
NC: Larry Sultan and Mike Mandel's Evidence is a pivotal work for you, could you tell us why it is meaningful to you and any other projects that you find interesting today in that same vein…
JE: I think Evidence just made the shortfall between intent, content and context explicit. The compelling strengths and weaknesses of photography is resonating in those images in that sequence for me. We are seeing a lot of really frank, art photography that 'interrogates the medium' right now, following on from precedents like Sultan and Mandels'. The last work I saw in this vein that really excited me was by Annie Macdonell and is called Flatness, Light, Black & White. I was already a fan of her elegant, concise work, but she's just taken it up another notch. There's serious intent and great wit.
NC: We will shortly be launching an open submission where artists will be asked to respond to a statement provided by a curator, the work will then be edited into a series of projections. What are your thoughts on this process and the possibilities it might create?
JE: I can't wait to see what comes about in response to Thurston Moore's quote…
You can see more of Jason's work here.