Interview with Night Contact 2014 Commission Winners Tom Pope and Terrence Smith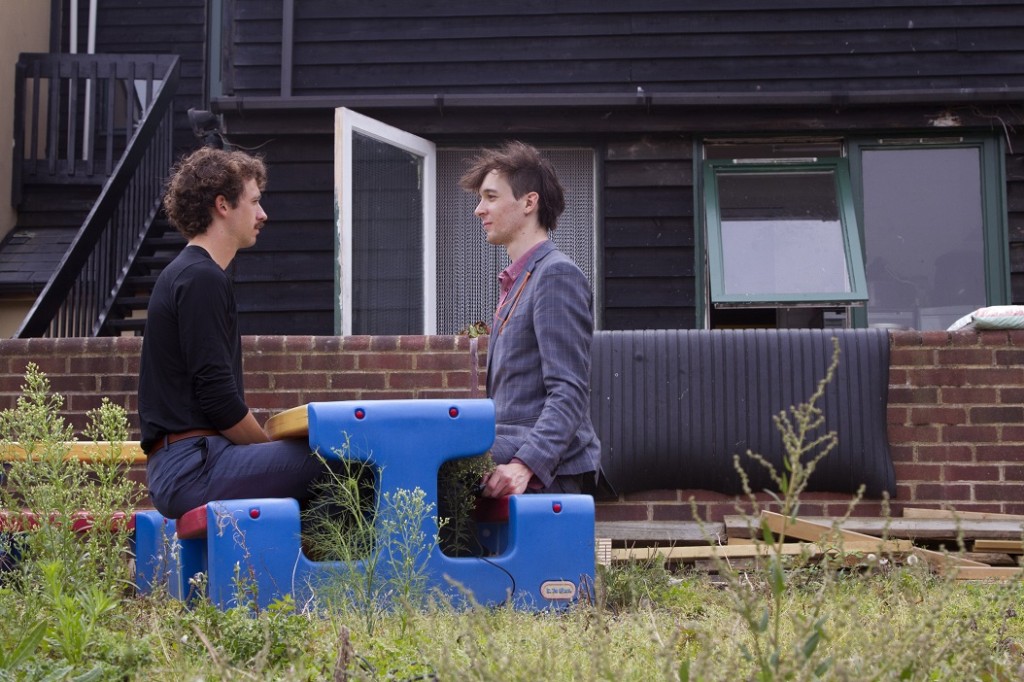 Night Contact partnered with Photoworks to offer a £2,500 grant towards one new site-specific collaborative work to be the focus of the 2nd edition of the multimedia festival taking place 18 October 2014 as part of Brighton Photo Biennial (BPB). We are thrilled to announce our commission winners Tom Pope and Terrence Smith who will create an experimental film, Silent Fore to Aft, charting their seven-day journey between London and Brighton by tandem bicycle. We spoke to Tom and Terrence about their working practices and the dynamics of collaboration and communication…
Have you both ridden a tandem bike before!?
No. When we got the tandem for the project we took it for a lap of Battersea Park but that's it.
Could you tell us a little bit about the project?
The project allowed us to make an experimental film that would explore ideas surrounding collaboration. To do this we choose to ride a tandem from Brighton to London over the course of seven days, choosing not to communicate to one another. Turning collaboration into a performative event, the physical and conceptual experiences of the project will form the basis of the resulting film.
What influences did you draw on when developing this project?
Influences are wide-ranging and sporadic. The performance element of the project is rooted in conceptual performance art, for example Vito Acconci and Allan Kaprow, where a set of rules is devised that creates a situation. We both wanted the performance to allow for the unknown to occur rather than dictate what would happen over the 7 days. Psychogeographic strategies had an influence on how we would explore unknown environments when we arrived at locations we had never visited before. Where as, regarding the filming side of things, Terry and myself drew on influences that are closer to our individual practises.
Tom, you use social interaction extensively in your practice with the public becoming willing participants and collaborators, could you tell us about some of your previous projects and how they informed this project?
One of my largest projects to date is Time Bound where over the course of a month I travelled in a hearse from the centre of London to CERN where I destroyed a grandfather clock at the centre of the Large Hadron Collider. The premise of the performance was to investigate living a life free of measured time, while the structure of the project saw me create photographic and film works each day at the locations I found myself in. Time Bound was social, with some of the public taking part in performances or interacting with my crew while on the road. Having previously planned and organised such a large-scale performative project or 'tour', so to speak, informed a lot of the operational planning for Silent Fore to Aft. My most recent works have been based within public and audience interaction though play. Artworks being created as a result of playing a game, for example, in one of my photographs Catch, I play a game of catch with a grapefruit and a participant. I throw the grapefruit towards the camera, where the participant, holding the camera, takes a photograph freezing or 'catching' the grapefruit. The difference between Silent Fore to Aft and my previous projects is that rather than communicating or working with public participants, this project is focused on Terry and myself existing and working together. Our journey is relatively insular; it's about collaboration with each other rather than seeking others to be involved.
Tom, you invited Terrence to work with you on this project, what were you looking for in a collaborator?
Terry and I have known each other since our days at the Royal College of Art. We are good friends and worked together previously, but seldom in an art context due to our differing styles and processing when practicing. In a sense, the Night Contact opportunity allowed us to explore both our practices with equal privilege within the chosen project. With regard to criteria, it's not so much what can a collaborator bring to the table? But rather is there a dynamic between Terry and myself, is there potential for our differing practices to collide and be tested? This is something that we both discussed and found exciting when writing the proposal.
Terrence, what is it about the project that made you want to collaborate with Tom, and how has your own practice informed the project?
For me the project was a chance to take a leap into the unknown. I was both excited and nervous by the opportunity of a journey where Tom's relationship and mine would inform the work created. I knew I needed to shake things up as much as possible and that I wanted to work on something textually and rhythmically different from my own practice. Our approaches to making work couldn't be further apart and we knew that these differences would offer up certain conflicts, tensions and failings, and envisioned these being interesting and amusing for both the audience and us. When we spoke to each other about the project, we often described it as a tragic comedy and in many ways that is still what defines it. I would like to think that my own practice and approach has informed certain decisions that were made, the fabric and feeling of the images recorded, and my relationship together with Tom's have created something entirely unique and personal.
You created a strict set of rules for the project, could you explain why you applied these?
The rules structured our idea and formed ways of forcing us to deconstruct communication and notions of collaboration. These rules, such as not communicating to one another, allowed us to push each other and to create situations where our relationship would be tested. We picked a vehicle where collaboration is paramount and necessary and decided to make a journey where experience and intuition would guide us. The rules did not depict a final outcome or a style of shooting, but loaded the project with potential, especially with regards to what could be recorded. The project was not about executing an action in the simplest way or travelling via the most direct route, it was designed to challenge both the practical and conceptual notions of collaboration.
With the rule that you could not speak to each other throughout the journey, you took away perhaps the most fundamental tool of collaboration, what was the thinking behind that decision?
Within the context of collaboration, talking is often something taken for granted. The advantage of collaboration is the option of being able to ask your collaborator for their opinion and to offer them encouragement, support, reassurance and to reflect on the work being made. The reasoning behind removing the option to speak to one another was to break down a practical relationship and to be situated in to a new territory where we were inseparably bound and isolated in the same instance.
How has the non communication on the trip affected the practical planning of the journey?
Prior to starting on the trip and not communicating, we planned and prepared a rough route, destinations and a daily budget, which covered accommodation and food allowances. We wrote a detailed code of conduct that functioned similarly to a risk assessment, which covered a variety of situations and would prevent us from communicating. Whilst on the trip it was essential that we were aware of these codes and were able to determine what each of them meant. For example the ringing of a bell that was used on and off of the tandem was a way to communicate to the other a problem or a moment where there was potential to make work. However during the seven days of non-communicating practicality became increasingly difficult and various situations and experiences changed the course journey and the outcome of the film.
How has having a lead rider fed into ideas/ interests of the project? How do you make decisions on who leads and how often do you switch 'roles'?
The leader changed every 90 minutes. This was an opportunity for each of us to take turns to encourage new situations and experiences. As the project progressed and we became more in tune with each other's moods and movements, the transition between leaders happened more naturally.
Silent Fore to Aft will premiere at the festival between 6-10pm at Circus Street Market in a specially designed truck trailer. The following day (19 October) at 2pm, Tom Pope and Terrence Smith will hold an artist talk about the project at Grand Parade.